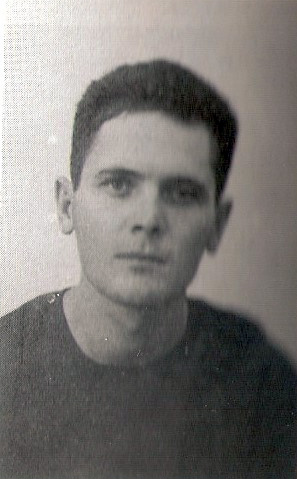 Victor Levy was born on 9 October, 1932 in Alexandria, to a wealthy family. Victor's father was an Alexandria native who held a senior position in a chemical-import company. Victor's mother was born in Egypt to a rabbinical family which stems from Jaffa. The family ran a Jewish conservative household. Victor attended the Jewish-French high-school and was an active member of the 'HeHalutz Hetzair' Jewish youth movement (Hebrew: the young pioneer).
Subsequent to the founding of the state of Israel, when the independence war broke in May 1948, the Halutz movement went underground and many of its' activists were arrested. Victor's plan was to immigrate to Israel – "make Aliyah". He planned to join his peers, who were arrested earlier and then deported from Egypt, and founded the Israeli Kibbutz Yir'on in the upper Galilee. However, in light of his parents' objection, Victor decided to remain in Egypt and to begin his academic studies in agronomy, hoping the academic knowledge he would gain, would be later useful in Israel. 
Victor met his fiancée, Susanne Kaufmann, in the underground Hebrew school, which the younger members of the local Jewish community ran within the Jewish high-school. After the founding of the State of Israel, and following imprisonment and political persecution in the diaspora, the Young Halutz movement (which stems from the "Dror" movement) fell apart, which launched a political competition between youth movements in order to win the hearts of the youth and recruit them. Victor was the one who introduced Susanne into the "Dror" – Zionist socialist activist youth movement, which stems from the Halutz. 
Susanne was an only child to parents who stem from Russia. The two fell in love and decided to marry in Israel after Victor would complete his academic studies and join Susanne in Israel. In 1951, the couple was set to leave Egypt and make Aliya – immigrate to Israel. However, it would take the couple 17 more years before they would be able to marry. 
When the State of Israel was established, Unit 131 was the single operational unit at the Israeli Military Intelligence ward of the General Staff of the Israel Defense Forces (it was only at the end of 1953 that the ward became one of the General Staff Military Intelligence), which was designed to run intelligence operations in Arab states, particularly during war times.
In 1951, a serving officer of the unit, Captain Avraham Dar, was posted to Egypt in order to draft young Zionist Jewish activists and direct them through information gathering missions, which took place within the unit's framework.  Avraham Dar was assisted by Zionist activists and the staff of Mossad LeAliyah Beth, the paramilitary institution for immigration, in locating eligible young people. Ovadia Danon pointed Victor out as a potential candidate. Victor met Avraham Dar. In the talk they had, Victor realized this was about contributing to the Israeli defense and did not hesitate about joining the cell net. Victor was then required to leave the movement that meant so much to him, which he did, even if with a great pain.  Avraham Dar recruited additional young members in Cairo and Alexandria, and they were organized into small local groups. Since then, Victor and his friends were under cover and pretended to be young hedonist men with no affiliation whatsoever to the Zionist movement and streams.
In September 1951, Victor was summoned for a training in Israel. In order to be able to leave Egypt, which was Israel's enemy state, and being a graduate of the Faculty of Agriculture, Victor enrolled for an academic training course in Paris University. This was a cover story:  following the training in Israel, Victor was meant to return to Egypt and to replace Smuel Azar as Alexandria cell commander. Victor arrived in Paris in October 1951. In December he was permitted to enter Israel, where he met his fiancée, who was shocked to learn he was not intending to settle there. Victor had promised her that after the completion of a two-year mission under cover, as an activist in a local pro-Aliya organization, he would return to Israel and to marry. When Victor completed the training program, a few months later, he returned to Egypt via Paris.
During the training Victor met Dr. Moshe Marzouk, commander of the Cairo cell, who also attended the program.  They befriended and became regular guests at Susanne's home.
Upon the completion of the training, head of Unit 131 held a concluding conversation with Victor. The commander clarified Victor the mission he was facing was a dangerous one and that he was free to decide to not go back to Egypt. However, Victor said he volunteered to the mission and had no intention of changing his mind.
The British government's decision in 1954 to pull its army out of Egypt raised grave concerns in Israel. Someone at the military intelligence suggested to secretly sabotage British and American facilities in Egypt and to thus make the British reconsider their decision. Avri Elad, an officer of the Unit 131 was sent to operate the Alexandria group. The Cairo cell was inoperative after its commander, Dr. Moshe Marzouk, resigned after a few months earlier and no one was appointed to replace him.
Victor, who at that time was already in command of the Alexandria cell, took part in two actions which caused light fires with no casualties. The third action was set to take place on July 23rd, the anniversary of the Egyptian revolution of 1952, and targeted cinemas in Cairo and Alexandria. The explosive device burst into flames prematurely while still inside the pocket of Philippe Nathanson when he stood on the staircase to the 'Rio' cinema in Alexandria, and he was immediately arrested.
Victor, who was with him, managed to escape and even made it to a safe flat, where he could get rid of information that would reveal details about the action. However, he was arrested upon his return home. The members of the two cells were all arrested within a matter of a few days, faced charges and stood trial. The only one not arrested was their commander, Avri Elad. Eventually, it turned out that he betrayed his subordinates and turned them in to Egyptian intelligence.
The cells' members were cruelly interrogated and then stood a showcase trial. The results were grim.  Samuel Azar and Dr. Moshe Marzouk were sentenced to death in hanging. Victor Levy and Philippe Nathanson were sentenced to life of hard penal labor. Robert Dassa and Marcel Ninio were sentenced to a 15-year prison term each, and Meir Meyohas and Mayer Zafran were sentenced to a 7-year prison term each. Victor and his peers suffered under severe torture during their investigation and imprisonment. Eli Naim and Cesare Cohen were acquitted. All men were sentenced to hard penal labor as well.
The conditions in prison were hard to bare. The inmates suffered greatly, particularly during their first years in jail when they had to adjust and also worked hard labor in a quarry. As they were all jailed together they were able to support each other. Their situation improved after the hard labor penalty.
One day, when the commander of the prison wanted to decorate the prison's yard in preparation for a visit of distinguished guests, he recalled Victor was an agronomist and turned to his help.  The commander then appointed Victor to be the Tora prison's gardener. Victor nurtured a garden and a kitchen garden. His parents helped him in buying seeds. Every week Victor used to bring flowers to the prison cell, a gesture which was meaningful to his inmates and made them feel better. It was during that time, when a new officer in the prison, who was ranked major, began to trust Victor and favored him.  The other inmates were put off by this officer due to his religious fanaticism and his cruelty.  The officer trusted Victor to an extent that whenever he sentenced prisoners in disciplinary trials, and decided on whipping punishments he asked for Victor's approval the trial was fair. At times, Victor managed to soften punishments. 
But it was not just thanks to the gardening that Victor's status in prison was solid. He also formed a duck hatchery, and a chicken hatchery.
He fed the ducks and chicks with leftovers of food from the kitchen, which were ground especially for this purpose. The duck hatchery became an enormous, wide-scale operation which was spread over a large area. The prison's commander, who took pride in it being a flagship project, used to present it to distinguished guests as well as to his own colleagues – commanders of other jails. Everybody came in to learn "how to turn garbage and leftovers to meat". The duck hatchery was located nearby the prison's wall. Working in the hatchery enabled Victor relative free movement in the jail's yard, and together with his peers he began to think about escaping. The inmates were concerned of what would happen to them, they had concerns about harassment, informers and searches. At the same time, their contribution to the prison further established their position there.  During their later years in prison, Victor's special status among the commanders and high-level officers was such that even prison's guards turned to his help and advice regarding the jail's commander.
Israeli spy, Wolfgang Lotz, who was imprisoned with them during their last two years in jail, wrote in his book "Mission to Cairo" that Victor Levi earned a special status thanks to his strong personality. Lotz described how Victor functioned as an internal manager of the prison. Prisoners and guards alike responded to him and followed him.
Victor Levi, Robert Dassa, Marcelle Ninio and Philippe Nathanson were released from prison in February 1968 as part of the prisoner exchange after the 1967 Six-Day War. Following their arrival in Israel, Victor was ranked Major in the IDF intelligence headquarters and later was raised to Lieutenant Colonel. In Israel, Victor met Susanne, the love of his youth, and shortly after they married and had two daughters.
In 1976, journalist Aviezer Golan published his book "Operation Susannah", where he told the story of the four
In Israel, Victor completed his academic studies and enrolled in BA and MA studies at the Hebrew university's Faculty of Agriculture. Later on he worked in companies including TEVA and ICL.
A skillful, gifted man and a talented professional, who also mastered several languages, Victor was also representing the companies when they established branches overseas and then ran the branches. In 1980, Teva company sent Victor to establish its' extension in Kenya, Africa, where he stayed with his wife and two daughters, Talia and Leora, during four years. Victor was then posted to Brazil and to the Netherlands on behalf of Bromine  Chemicals to Israel. He resided in the Netherlands for seven years.
Victor Levy died in August 2003. "In that dark place, he was a ray of light" were the eulogy words of friend Robert Dassa, who said "his optimism kept us all sane".
Marcel Ninio stressed that Victor was no bitter man.
Journalist David Zohar, who wrote for "Maariv" daily newspaper quoted Victor, who said:' I expect no reward for my actions or for the many long years in prison. Everything I did was derived from being Zionist conscious, who had to act for the state of Israel. To me, being here today is the major reward for everything I did".
Bibliography:
Aviezer Golan, "Operation Susannah", Jerusalem, 1976.
Zohar David, Maariv daily newspaper, an article which was published on 14 November 1971
Uri Dromi, Haaretz daily newspaper, an article which was published 11 September 2003