Lieutenant Colonel, engineer Samuel Azar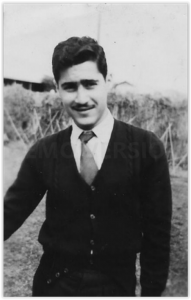 . Samuel Azar was born on November 22, 1929, in Alexandria, to Kaden Adela (née Krudo) and David Azar 
His family stems from Turkey and immigrated to Egypt in the beginning of the 20th century.
A gifted boy, Samuel skipped the first grade, and immediately came in the second grade in the Jewish community big school, where he studied with his cousin, Moshe Thalmi (Takumi). He graduated from elementary school magna cum laude, and earned a scholarship for his high school education in the local gymnasium.
Samuel was revealed to be unusually gifted in mathematics. A prodigy, his mathematical talent unfolded over the years. During his high school years, Samuel used to help his friends, who struggled in school. Mainly teaching mathematics and sciences, he became known for his excellent tutorial skills. Samuel graduated magna cum laude also from high school. According to Samuel's friend, Dr. Maurice Sax (Sagie), Samuel ranked fifth among the overall 3,500 pupils, who took the final exams in Egypt that year.
He also took evening classes, and studied Jewish literature (Mishna) and Jewish oral law (Talmud) by Rav Moïse Ventura's. Samuel was passionate about art since early childhood and was also gifted as an artist. He painted, sculptured and played the guitar (even though his family could not afford his regular studies). Some of his artwork, paintings and sculptors, remained with his family and friends.
In 1943, at age 14, Samuel joined the Zionist youth movement "HeHalutz Hetzair" (Hebrew: the young pioneer). Under the leadership of an energetic envoy from Jewish-Palestine, Raphael Recanati, the movement started to organize activities in Egypt. Of all people, it was shy Samuel, who reached out to his peers and motivated them to engage and become activists. Together, they established a Hebrew-speaking club, called "the Bar Kochba's ". The movement and club, became the center of Samuel's social life. His paintings decorated the walls of their club and he was the one responsible for the design and theatre setting in every event they held.
In 1946, Samuel was chosen to be one of the group's members to undergo a two-month training program on a Kibbutz in British-ruled Palestine. While some of his peers found the experience to be disappointing, it was an empowering experience for Samuel, one which enhanced his recognition, he only belonged there, in Eretz Israel.
Most of 'HeHalutz HeTzair' (Hebrew: the young pioneer) local leaders in Egypt were arrested in May 1948, when the state of Israel was established. The movement, then already joined together with "Habonim" Zionist youth movement, went underground.
Samuel's plan was to immigrate to Israel after graduation from high-school. Due to his father's illness, he decided to postpone his Aliyah. Instead, he decided, he should help provide for his family as well as to enroll in academic studies.
Samuel was awarded with a scholarship from Alexandria University and came in the electric engineering studies in November 1947. Muslim Brotherhood activists have already persecuted Jewish students during his first year in university. Samuel was also harassed. On his second year, 1948-1949, the university authorities prohibited the attendance of Jewish students in classes, based on their Jewish identity. Jewish students were only allowed to take their exams.
While most Jewish students left the faculty due to these discriminatory regulations, Samuel took all the exams and passed them summa cum laude. In 1952, he graduated from Alexandria university with the best-ever record of grades that any university student in an engineering faculty in Egypt, has ever obtained.
Parallel to his academic studies, Samuel took several jobs, which included translations and teaching private lessons, also to his peer students. He took interest in psychology, philosophy, economy and Judaism and continued to paint ans sculpture. Samuel expressed his many talents and yet, has always remained humble and modest.
In early 1951, representative of the Israeli institution for immigration (Mossad LeAliyah Beth), Ovadia Danon, introduced Samuel to an Israel intelligence agent, Avraham Dar. An officer of Unit 131, Dar was sent to Egypt in order to establish there an underground espionage ring. Samuel was his first recruit.
Samuel's main achievements took place during the establishment process of the cells. Avraham appointed Samuel to be the Alexandria cell commander. A well-known, respected member of the Jewish community, Samuel managed to recruit several of the community's young men and vigorously lead their team building. He also handled the establishment of sufficient infrastructure (including apartments, contact persons, finances and funding, securing hiding places for weapons). In addition, Samuel maintained contact with the Cairo cell, headed by Dr. Moshe Marzouk, via liaison officer, Marcelle Ninio.
In 1952, he graduated from university. Once again, Samuel had to postpone his Aliya to Israel. This time, it was the intelligence mission he undertook, which kept him from leaving Egypt. Samuel was no Egyptian citizen and therefore it was prohibited for him to work there in his profession, as an engineer. Instead, he had to do with a teaching position in the local Jewish High School. Samuel intended to immigrate to Israel in the summer of 1954, after he would hand the Alexandria cell commands over, to Victor Levy.
However, in June 1954, an Israeli agent of Unit 131, Avri Elad, arrived in Egypt. Elad was impressed by Samuel's personality and considered him to be the one leader of the Alexandria group.
In July that year, the Alexandria cell received its' orders to launch a series of minor sabotage actions in public facilities. Within a short time, they were exposed, captured, investigated and stood trial in a showcase trial, where most of them were sentenced to long terms of imprisonment.
Samuel Azar and Dr. Moshe Marzouk were sentenced to death in hanging. They were executed in Cairo, on January 31, 1955. Post mortem they were both ranked Lieutenant Colonels of the IDF.
The entire affair and the manner of operation caused one of the biggest political scandal in Israel and a stormy public debate. It became known under the names of the "The Affair" or "The nasty business" and resulted in the fall of Israeli government.
On 19 April, 1977, Samuel Azar's and Moshe Marzouk's coffins were brought in Israel. They were buried on 24 April, one day after the Israel's Independence Day at the "Gallows executed section" on the top of the military cemetery on Mt. Herzl in Jerusalem.
Words by Ms. Yaffa Shoshana, in memory of her brother Samuel Azar,
in a memorial ceremony, January 20, 2013:
First, I wish to thank you all for being here today, attending this memorial. It is not obvious. I am especially grateful to Professor Nahem Ilan, who often holds lectures about the net, for younger audiences as well as for adults, and by so commemorates the people, their work and their legacy.
I would like to tell you, in short, about my late brother, Samuel Azar.
Samuel was a shy, introvert child. I recall how, as a kid, he used to paint and draw, whenever he had the chance, and wherever he could. That included his chalk drawings over the entire floor and all over the walls. Only later did we realize, just how much talent he got.
In school, as well as in high school, and later in university, Samuel has always excelled and stood out for his outstanding grades and extraordinary skills. But if it was for him, I doubt if we would have ever known about it. He was always humble and it's thanks to his friends that we learned about his accomplishments.
It's important for me to state my brother was a passionate Zionist. He joined the Zionist youth movement at age 14 and became a key activist. Within the movement, Samuel and his peers gathered an inner circle and formed a Hebrew-speaking club, which they named, the Bar-Kochba's. Years later, their facilitator, Yair Doar, said: "They shared a special bond. It was a special, united group, which religiously conducted its activities, discussions and playing in Hebrew alone". Let me remind you – they were all Jewish boys from an Arab state. Hebrew was not their mother tongue.
I made Alyiah in 1945 and joined the Zionist vocational training program. In 1946, when I was in Kibbutz Gvath, my brother joined a guided trip the movement held and dropped by to visit me. When he returned to Egypt he was more convinced than ever he should make Aliyah. However, upon his completion high school studies, due to my father's illness and the dire financial situation, Samuel suspended his plan, applied for a scholarship and enrolled in academic studies in electric engineering in Alexandria university.
He kept working during his studies, primarily in giving private lessons in order to earn money and provide for the family. So, while I was living my dream and made Aliyah, he, the youngest of the family, undertook the task and carried the responsibility to provide for the family.
Because he was not an Egyptian citizen, Samuel was not able to work as an engineer in Egypt after he graduated from university. So, he took a teaching job. He taught mathematics and science in the local Jewish community elementary school. One of his pupils said about him: "Samuel was a unique persona in school. He did not accustomed to the then-popular teaching methods, and was the only teacher who never punished pupils".
Samuel was frustrated for not being able to practice his profession and not fulfill himself. He expressed his frustration in a letter he wrote his good friend, Ovadia Danon, in July 1953. Ovadia is here with us today. The letter also conveys a great sense of loneliness. In fact, by then, most of his friends, Ovadia included, already left Egypt and arrived in Israel. He, on the other hand, remained there for the mission he undertook. There was no other reason for him to stay.
As for the actions and operations which the network ran in Egypt – and without getting into the questions "Who gave the order?", "What were the goals of the actions?", "How come there was no escape plan?", to just name a few – It is important you remember they were men of peace, passionate, enthusiastic very young men, who made a point to be loyal and devoted in all their mighty, and to give everything in their power, for their own people and state. A state, they even had no chance to live in.