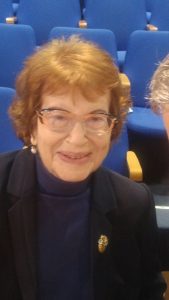 Born on 5 November, 1929 in Cairo, Marcelle was the youngest daughter of Ya'akov Ninio and Fanny (née Haim). She had two older brothers.
Marcelle's parents immigrated to Egypt with their families. Her father fled Bulgaria before the first World War, due to the policy of conscription for military service, which was forced by Turkey. Marcelle's mother stems from Turkey and left with her parents after the first World War.
The family resided in Cairo's city center, where Marcelle attended the local Jewish community elementary school. She excelled at sports, passionate about playing basketball, swimming and gymnastics.
In 1939, when she was nine years old, Marcelle's father died. After his death the family moved to Heliopolis suburb and Marcelle moved to the elementary school of the local Jewish community there. She graduated from St. Mary College high-school. She then studied stenography and typing and was working as a secretary. During all these years, her mother let rooms in their flat.
Upon the establishment of the state of Israel in 1948, Unit 131 was founded. It was designed to run intelligence operations in Arab states, particularly during war times.
In 1951, a serving intelligence officer of Unit 131, Captain Avraham Dar, was posted to Egypt in order to draft young Zionist Jewish activists and direct them through information's gathering missions, which took place within the framework of the unit.
To this aim, Avraham Dar was assisted by Zionist activist and member of the Jewish community Dr. Haim (Victor) Saadia. In addition, representative of the Jewish agency in Egypt, Shlomo Hillel, also helped Dar. Years after, Hillel became a minster in the Israeli government and Speaker of the Knesset Parliament. In 1988 Hillel was awarded the Israel Prize, for his special contribution to the society and the State of Israel.
Marcelle was an active member at the Heliopolis branch of "HaShomer HaTzair" Socialist-Zionist youth movement. It was there, that Dr. Saadia, who was looking for Zionist spirited volunteers, established contact with her and later on linked her to Shlomo Hillel.
When she met Hillel, Marcelle stressed she was her family's main provider and that it would be essential the state took care and provide for her mother, should anything happen. Eventually, Marcelle's mother passed away in 1953, prior to the fall of the network.
After meeting Shlomo Hillel, Marcelle also met Avraham Dar and volunteered to help the network he established in Egypt. Her mission was to be the liaison with the two operative cells in Cairo and Alexandria, facilitate communications among them and transfer parcels. Avraham Dar introduced Marcelle to the members of the Cairo cell. They travelled to Alexandria in order to introduce her to the local cell members.
In 1952 she met Meir (Max) Bineth, an intelligence officer of Unit 131, who operated in Egypt on a personal intelligence mission, unrelated to the spy cells Avraham Dar established.
Upon his arrival to Egypt, Bineth delivered Marcelle parcels for the two local spy cells. Bineth was the one, who taught Marcelle photography and how to use invisible ink.
In 1954, following the British government decision to pull its' armed forces out of Egypt, it was decided at the Israeli military intelligence to try to sabotage British and American facilities in Egypt, in an attempt to reverse the British decision. Subsequently, the Alexandria cell ran several actions in Alexandria and in Cairo. During one of the actions, a technical mishap occurred, when an improvised explosive device burst into flames prematurely, while it was still inside the pocket of Philippe Nathanson, who was standing on the staircase to the 'Rio' cinema in Alexandria.
One by one, the spy net members were then arrested. Following interrogation and torture, they stood trial.
While the members of the two cells were detained, Marcelle stayed at "Ras El Bar", a resort city. She was arrested there and taken to Alexandria for interrogation. Marcelle was severely tortured during her investigation period and tried to commit suicide. She was critically wounded and taken to a hospital from which she was transferred to court trial.
When the trial ended, Marcelle was sentenced to a 15-year imprisonment term. Other members of the spy net were also sentenced to lengthy prison terms. Moshe Marzouk and Samuel Azar, who were the commanders of the two spy cells in Cairo and Alexandria, were sentenced to death by hanging. Max Bineth committed suicide in his prison's cell during his trial.
Israeli media reported about the affair and the net's failure under heavy censorship and only used suggestive codes such as "The Affair" or "The Nasty Business " in order to refer to the events.
The iconic question associated with the public debate in Israel regarding the affair was "Who gave the order?". It wondered who ordered the spy network to run the operation despite the fact its' members were not trained for such missions of sabotage using explosives. The question dominated the local public debate and remained open.
Following her verdict, Marcelle was sent to a women's prison in Cairo. While the other, all-men members of the net remained together during their imprisonment terms, Marcelle coped on her own with life in the women's prison. Devoted Zionist who stood trial for spying for Israel, Marcelle was isolated and separated from the rest of the political prisoners, the majority of whom were communist.
Occasionally the net members managed to communicate with Marcelle through letters and oral messages which other prisoners conveyed. Marcelle established a basketball team for the prisoners, as well as dancing and knitting classes. She also launched volunteering in the prison's medical clinic and more. That was her way of coping with life in prison. Members of the Jewish community in Cairo used to visit her and tried to help her as much as possible.
Following persistent efforts made by then Chief Director of the Mossad, Meir Amit, the four prisoners who remained in prison were released: Marcelle, Robert Dassa, Victor Levy and Philippe Natahanson. They arrived in Israel on 12 February, 1968.
In Israel, Marcelle studied Hebrew in an Ulpan. She graduated from Tel-Aviv University where she studied English, American literature and Art history. Following her arrival in Israel, she was ranked Lieutenant Colonel of the IDF intelligence.
In 1971 she met her husband, Ely Boger. They resided in Ramat Hasharon and Hod Hasharon.
Marcelle passed away on 23 October 2019.
Eulogy by Robert Dassa
I would like to tell you about Marcelle the way I knew her.
I knew her like no other.
Young Marcelle grew up in Cairo. She was a beautiful, wise young woman with a bright future ahead of her, when she responded to the request made by a representative of the State of Israel, to be recruited for a risky operation.
Marcelle was aware of the gravity of the task and the risks attached. Why was she motivated to operate for a state afar, a state she had never visited, where she had no family nor friends?
The answer was Zionism and love for the State of Israel. We were young idealist Jewish; devoted Zionists who lived in Egypt. And we remained so, during all the many years which followed. We always looked up to Israel; It was what we aspired for.
I first met Marcelle in court during trial. I saw a young, strong woman who kept her own, fine appearance, as you can see in the few photos which were taken in court. It was the Egyptian Military Judge, General Digwi, who recognized the way she carried herself with dignity. He said to Muslim detainees, who did not show similar resilience, that they should have followed the model of the young woman who attended the court hall just before they did.
During the difficult years in prison, we were thinking about Marcelle and cared for her, as we did for each other, from afar. It was between the walls of prison that our connection grew stronger.
We knew it must be very hard on her, to be a young woman alone, surrounded by enemies. We made efforts to keep in touch with each other. One time, Marcelle found an original way to do so, when she sealed the sewage path and thus made a plumber come fix it. She then delivered a letter for us in his vessel. She also knitted a sweater for us, as well as handkerchiefs and socks that I keep to this day. For my part, I sent her postcards with drawings and stickers, every year for her birthday. It was not easy to get a hold of such things in prison but it supported and strengthened us.
Marcelle was the only woman in our net. I hinted earlier about the hardship she had to face. One can only imagine what Marcelle went through. But anyone who knew her saw a strong, impressive and brave person. She was a sensitive woman with special grace who always stood tall.
When we were released, they asked Marcelle, what was the first thing she wished for. She replied – a bubble bath. I asked to drink from a glass made of glass.
Now is not the time to elaborate about the spying affair, about the questions – Who gave the order? Who was responsible for our late, delayed release?
Marcelle decided to recover, rehabilitate and to live on. She married Ely and filled her new life with substance and meaning. She was well educated, broad-minded, a lover of books and art.
But the inner wound never really healed.
The destiny we shared connected us in a special bond, which only grew deeper over the years.
We continued to care and support each other. We lived fifty meters away from each other. She was an inseparable part of me, a sister to me and an aunt to my kids.
But – whoever thinks she was perfect, does not know her craving for Mulukhiyah soup, which we used to eat together.
I will miss Marcelle enormously.
It feels as if yet another part of me is now gone, after the passing of Victor and of Philippe.
I do have one request to make on behalf of Marcelle; call it her will if you wish: May the people that make sure our story lives on will be found. It is especially meaningful to convey the story and pass it to youth and the next generations, perhaps within the framework of a public education. Make sure it is not forgotten.
I think it should make Marcelle happy.
Rest in peace Marcelle.
We will miss you very much. We love you.
Additional reading and links –
• A farewell to Marcelle, 1 November 2019
• Marcelle and I – Ben Shani and Tami Arad's film at "Uvda" TV show, 2 May 2019
• About Marcelle Ninio in "Politically Koret"- "Maalim Erech Project – Bringing women back to history". By: Nurit Lanir Carmeli