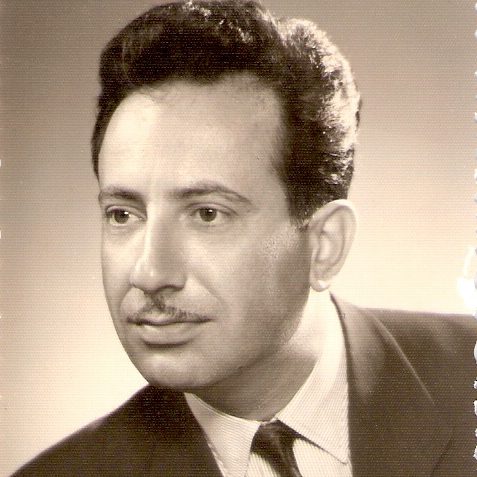 Born on 15 August 1928, Mayer was the son of Joseph and Flora (née – Gatenio). His maternal grandfather, Moshe Gatenio, arrived in Egypt from Prussia after the First World War. The family of Mayer's paternal grandfather, arrived in Egypt from Ioannina, Greece and Corfu prior to the First World War.
Mayer's father was a warehouse's manager. For twenty-five years he worked for Katawi Pasha in a large farm, where they grew wheat, corn for flour and sugar canes. Located in the town of Komombo, near Aswan, Upper Egypt, the farm was 1,500 Km south of Cairo.
Mayer lived in Komombo until the age of seven, when his parents sent him to live with his grandfather Mordechai and grandmother Esther in Cairo, so that he could attend a French private school. Schooldays started at 7.30 AM. Mayer's family's home keeper brought him to school each morning and took him back home after school at 5.30PM.
In Cairo, Mayer maintained communication with his parents mainly through an exchange of letters. On rare opportunities they would talk over the telephone, which was installed at his grandfather's house. Mayer met his parents three times a year: at Christmastime, when he would take the night train (which left Cairo at 8PM and arrived in Komombo at 9AM the next day), at Easter and during the summer holiday, when his mother used to come to Cairo and stay there for two months. His father used to come for a one-month stay, when they went on vacation in Port Said.
Like other wealthy and modern families, which belonged to the Jewish community, the Zafran family resided in the Army Street شارع الجيش)) outside the Jewish quarter (حارة اليهود).
After his graduation from the French High-School, Mayer began his academic studies in architecture and construction engineering in Cairo University. In 1952 he completed his studies in both professions.
In 1946, at the same time that Mayer began his academic studies, Moshe Marzouk, recruited him for the "Haganah" . Marzouk knew Mayer from the "Maccabi HeHalutz" movement , of which they both were members. Their tutor, Raymond Bayer, taught them Hebrew and German. Only later did Meyer realize that Raymond was actually a "Haganah" envoy in Egypt.
After he joined the Haganah, Mayer was assigned two tasks: first, the formation of a group which would safeguard the Jewish quarter in time of crisis. It had to comprise Jewish boys by the age of eighteen, who lived in the Jewish quarter. Mayer succeeded in recruiting thirty-five boys for the mission, as well as his younger sister, Adriene. Second, Mayer had to put together a similar group to guard the center of Cairo. When attempting to form a third such group, Mayer was rejected and kicked out of the boys' homes.
Shortly following his recruitment, Moshe trained Mayer in hand-to-hand combat, using a knife and a wooden baton. He instructed Mayer to train the members of the two groups he had formed, so they would be ready for the crucial day when an independent Hebrew state should be established.
Moshe assumed the local mob would then attack the local Jewish neighborhoods. Accordingly, Mayer held weekly trainings for small eight-member groups. He did so in parallel to his university studies and to his publicly open activity at the Maccabi-HeHalutz movement.
Moshe had a pistol as well and Mayer also trained his group members how to use it. Mayer acquired such skill, that when he used the pistol, the knockback recoil of the firearm did not shake his hand. Moshe was impressed by Mayer's accomplishments and reported accordingly to the Haganah headquarters in Eretz Israel in mandatory Palestine .
One day, head of the Haganah's group of the city center complained about Adriane, who used to conduct surprise drills, which took him and his subordinates by surprise. Mayer was cool when replied: "So why don't you defend yourselves from her?".
Before the declaration of establishment of State of Israel, on Friday, 14 May 1948, Moshe instructed Mayer to go home in the Jewish quarter and construct barricades immediately. He told Mayer he should only leave one open pathway. Moshe also instructed Mayer to have all his subordinates placed inside staircases' halls of the buildings nearby the quarter's gate.
Moshe kept the pistol and carried it with only three bullets. He gave Mayer a grenade and told him: "I hope you would not have to use it and throw it at the mob. Should that happen, the entire Cairo would arrive to the quarter and slaughter the Jews".
Sure enough, the day after the declaration of the State of Israel, on Saturday afternoon, a mob which included incited kids, members of the Muslim Brotherhood and of the Masar Alfatat , flew into the Jewish quarter.
Mayer was awaiting them with his thirty-five youth group members, who were armed with sticks. He was holding the grenade as they were all standing outside the quarter's walls. Suddenly, they heard a single pistol's shot. The mob stopped, turned back and fled. Mayer ordered his group members: "Don't move!" and followed the escaping mob, step by step. Mayer's people followed him. Only when they saw the mob walking away from the Attaba (عتبة) square, did Mayer let his group go and instructed them to return into the staircase's halls.
The policemen arrived to the Jewish quarter half an hour after their return and were looking for the pistol; but it was already well hidden, as was the grenade Mayer held earlier and was put away in a hiding place under the floor of the synagogue, which was named after Rabi Mair Baal Hanes (The 'Master of Miracles').
Late at night, Mayer let most of his youth members go off duty and only kept a few of them on duty. He himself went through a sleepless night, he stayed awake at his home's balcony, and was listening carefully to any noise.
Subsequent to the Egyptian revolution, which took place on 23 July 1952, the factory in Kom-Ombo, where Mayer's father worked, was nationalized and Mayer's father moved and took a position in the Zilkha Bank in Cairo.
In 1951, Moshe arrived in Mayer's home and asked if he would agree to help the State of Israel and spy for it. Mayer agreed. The Cairo net cell was then swiftly established. It included Moshe, Mayer, Eli Naim, Cezar Cohen and Marcelle Ninio.
The second, Alexandria net cell, comprised of Samuel Azar, Robert Dassa, Victor Levi and Philippe Nathanson.
Mayer thought Marcelle should not have been recruited and protested the group about it. He was concerned that if captured, Marcelle might be tortured and raped. Mayer also wondered how come local Jewish were recruited, rather than Muslim or Christian Coptic Orthodox. His protest remained unanswered. A few months later, when Moshe returned from Israel and told Mayer they wanted the net to run terror actions, Mayer refused.
However, Moshe instructed Mayer to run intelligence missions. Moshe requested him to map military camps, which Mayer did very well. He made various excuses to let him in some of the military camps around Cairo; where he walked around and remembered the sights. Mayer then hurried back home, recalled the images from memory with high precision, sketched them and handed the sketches to Moshe. Together, they also prepared leaflets and spread them around the streets of Cairo in the wee hours of the night.
Mayer was captured in July 1954, a few days after the failed attempt to run a terror act at the 'Rio' cinema in Alexandria. He was sentenced to seven years in prison with penal hard labor.
During his imprisonment, Mayer's parents and sister tried to help him and his peers. On one of their visits, the prison's commander was surprised to meet Mayer's father, whom he knew from his work in the bank. He then reassured the father Mayer would be favored with the best of treatment.
Following the Suez Crisis and Sinai war in 1956, Mayer's father was deported from Egypt and arrived in Marseille on a ship. He further sailed from there to Israel. President of Israel Yitzhak Ben-Zvi, welcomed him on the Haifa port's deck and promised him the state of Israel would take care of Mayer and his prisoner peers!
Mayer's mother refused to leave Egypt as long as her son was jailed there. She was determined and indeed managed to secure a meeting with the head of the Egyptian security services and received his approval for her and and her daughter Rosette to stay in Egypt as long as Mayer stayed in prison. The mother and daughter left Egypt only after Mayer was released from prison, in 1961.
Before his release from prison, Mayer was allowed to attend Shabbat dinner at his elder sister Rosette's home. From there, he was taken to the Egyptian 'Tahshiva' facility for an overnight stay, after which, he was transferred to a prison on the Nile river, where he awaited his deportation from Egypt. He stayed there for three days. The Red Cross took care of him as well as of Mayer Meyohas, who was deported a day before Mayer.
Mayer's sister Rosette and a security man escorted him to the airport, where he departed to France. In the Paris airport, Yehezkel Ben-Sira welcomed Mayer. Former IDF paratrooper, disabled veteran and member of Kibbutz Maagan-Michael, Ben-Sira was the then Mossad representative in France. In the airport, Mayer also met his father, who was so excited, Mayer had to calm him down and reassured him, that he made it out of prison in good condition. During his two-month stay in Paris, Mayer was put under great pressure to relocate to Brazil, where he was to live undercover. But Mayer insisted on coming to Israel.
When landed in Israel, he was welcomed by commander of the IDF intelligence (AMAN), General Aharon Yariv, who waited for him on the airplane's staircase and called: "Welcome home, Captain Zafran!" That was how Mayer learned he was considered to be an IDF officer.
Mayer was also welcomed by his father and his sister Andrea, who especially arrived from Congo, and awaited him together with friends of his father. They had sweets and refreshments prepared for Mayer. It was a moving occasion and all were excited.
Mayer received a flat in Kiryat Yam B, a residential neighborhood for IDF staff and immediately began Hebrew studies at the Bat-Galim Ulpan. Six month later, he began working in the planning department in Haifa municipality. Shortly after, he moved to the construction department, where he was doing very well indeed. The first construction project Mayer managed was building the "Bikurim" school on the Carmel mountain center. Mayer worked in the Haifa municipality for nine years. On his last year, Mayer was part of the team who built the tower of Haifa university.
After the Six-Day War in 1967, Mayer was ranked Major.
In 1970 he travelled with his family to Gabon on behalf of the Federmann family and to the Ivory Coast on behalf of 'Solel Boneh' company, where he managed large scale projects. After three years in Abidjan, capital of the Ivory Coast, his wife Carmela returned to Haifa with their two children. Mayer was then appointed to be the director of the 'Solel Boneh' Israeli construction company, branch in Togo.
During his stay in Africa, Mayer made twenty-four drawings of his impressions from the time of the arrest, interrogations, trial and prison in Cairo. They were displayed in "The Israel Intelligence Heritage (IICC)" and are presented on this website under "Gallery", "Artwork of the Sentenced".
Mayer returned to Israel shortly before the 1973 Yom Kippur War. During which, as well as after the war, he coordinated some twenty public housing projects for Amidar company, in northern Israel, Tel Aviv and Jerusalem. He did so due to the fact the engineers in charge, were all on reserve duty military service.
After he retired, Mayer dedicated himself to art. His home is a small museum for his expressive artwork.
Mayer Zafran passed away on 30 October 2022
An interview with Mayer Zafran.