Philippe Nathanson, 1932-2004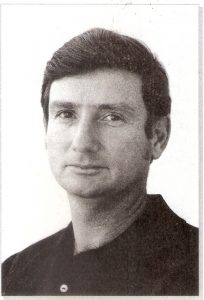 Philippe Nathanson was born on December 6, 1932, in Alexandria, Egypt to a well-established Jewish family.
Philippe's father, Herman, immigrated to Egypt from Austria during World War I and established himself as a dentist with high-society clientele. Philippe's mother, Margaret, (née – Regenstreif) was born in Egypt to a family which stems from Ukraine. Her family settled in Egypt in 1904, and was established as a family of opticians.
Philippe had one, elder sister named Annie. She and her husband Robert, were not involved in the espionage ring, but were also detained and interrogated, after Egyptian security services uncovered the espionage network. Following their release from arrest, Annie and Robert left Egypt and settled in Paris.
Philippe attended Alexandria Jewish school until he was sixteen. He then attended French high school, where he took his baccalaureate .
Philippe was an activist, who joined Zionist youth movements at an early age. He first joined the 'Maccabi Scouts', and then 'He-Halutz He-Ahid' movement. When Israel's War of Independence broke, Egypt prohibited the work of Zionist youth movement, which went underground. Many of the Zionist movement activists were arrested. Nevertheless, the movement, which sought to enable Jewish youth to make Aliyah, continued its' work and also supported Jewish detainees, who were imprisoned in the Abu Qir jail.
When "He-Halutz" movement fell apart it was replaced by the 'Dror', Zionist-socialist youth movement. Communists and other activists who infiltrated the 'Dror', eventually caused a split. Philippe was then left with just a handful of activists by his side. It was there, that Philippe had met Robert Dassa. Eventually, they were both recruited together for Unit 131.
When the State of Israel was established, Unit 131 was the only operational unit at the Israeli Military Intelligence, which was designed to run intelligence operations in Arab states, particularly during war times.
In 1951, a serving officer of the unit, Captain Avraham Dar, was sent to Egypt in order to recruit local, reliable, young Jewish activists and direct them through missions of information-gathering, which took place within the unit's framework. Dar was assisted by Zionist activists and the staff of Mossad LeAliyah Bet , which was the Jewish Zionist paramilitary institution for immigration, in locating eligible young people.
Victor Levy, who was recruited for the Alexandria espionage cell, recommended his close friend, Philippe Nathanson. Philippe met Avraham Dar and joined the cell as well. He agreed to store illegal substances at his home, where, indeed, a hiding place was built. Avraham assigned Philippe to take professional photography classes. To this aim, Philippe was accepted as an apprentice in a local professional photography studio and developed his expertise. Phillipe was also designated to be the Alexandria cell's responsible person for using codes. In order to conceal his Zionist affiliation, Philippe left the 'Dror' movement and changed his lifestyle, to match with the life of a young, hedonist man.
He was then sent to undergo a training program in Israel. In order to leave Egypt, which was Israel's enemy state, Philippe had to apply to academic engineering studies in Paris. Enrolling in a university, allowed Philippe to apply for a visa to France. A one-year visa was issued for him only towards the end of 1952. Philippe finally arrived in Israel, via Paris, in January 1953, when he began his military intelligence training in Unit 131.
The training comprised, inter alia, photography studies and deciphering codes. Robert Dassa attended some of the classes with Philippe. They have both become regular guests, who were always welcomed at the home of Suzanne, Victor Levy's fiancée.
After Philippe graduated from the Israeli training program, he travelled to France, where he stayed for several weeks, before he sailed back to Egypt. Upon his return to Egypt, Philippe secured a job in the cotton bourse. This position enabled him freedom of movement inside and around the port, which was at the center of attention of the cell.
Philippe going back to Egypt also enabled the renewal of military trainings for the cell members. Philippe brought along the military instructions how to produce bombs. The members followed the instructions as they began to compose the substances' compounds, in the back yard of Philippe's parents.
Philippe's work as a photographer picked. He also practiced photography as fine-art and received awards for some of his works, in amateur competitions.
The British government's decision in 1954, to pull its' army out of Egypt, raised grave concerns in Israel. Someone at the military intelligence suggested to clandestinely sabotage British and American facilities in Egypt and to thus make the British reconsider their decision.
Avri Elad, an officer of Unit 131, was sent to operate the Alexandria cell. The Cairo cell was inoperative, after a few months earlier, it's commander, Dr. Moshe Marzouk had resigned. No one was appointed to replace him.
A coded message, which was sent from Paris, informed Philippe about Avri Elad's expected arrival. Philippe first met Elad at home. A cautious man by nature, Philippe wondered how come Elad drove a flashy car, which was drawing attention. When Philippe realized during the meeting, that the cell had just turned operative, he requested Elad to remove the substances and documents, which were hidden at his home. Philippe also wanted to make sure there were passports available for the ring's members, in case something went wrong. Avri Elad promised Philippe passports were to be ready and instructed him to keep the home lab intact.
Philippe took part in three sabotage actions. The third of which, was set to take place on July 23, the anniversary of the Egyptian revolution of 1952 , and targeted cinemas in Cairo and Alexandria. That time, the primitive bomb was ignited prematurely, inside Philippe's pocket, when he was still standing on the staircase to the 'Rio' cinema in Alexandria. Philippe was arrested immediately.
Years later, Philippe testified how when at the scene, he heard one of the Egyptian security service staff, 'the Mukhabarat', calming the people around down. According to Philippe, the Egyptian officer called – "Fear not! Fear not! We were expecting these people, they are the same people who set the American library on fire". Victor Levy was there as well. He saw what happened and managed to escape but was arrested several hours later.
In anguishing pain, Philippe was rushed in an ambulance to the hospital. His interrogation started already in the hospital, when before they treated his injury, Philippe was taken home for a police search and investigation. Within a matter of days, the rest of the members of the two cells were arrested. They faced charges and stood trial in December 1954. The only one who was not arrested, was their commander, Avri Elad.
Eventually, it was discovered Elad betrayed his subordinates and informed the Egyptian intelligence about them. Philippe was the first who suspected Elad had betrayed him and his colleagues. He expressed his suspicion but initially, his friends refused to believe it. However, in time, further details about the events were gathered, about the bomb, which burst into flames, their investigations, and the way all the ring's members were arrested. The groups' members were, eventually, convinced Philippe was right, and that indeed, Avri Elad, informed the Egyptians about them.
Dr. Moshe Marzouk, commander of the Cairo cell, and Samuel Azar, commander of the Alexandria cell, were sentenced to death and hanged on 31 January 1955 (Hebrew date: 8 Shvat, 5715), in Cairo.
The rest of the members of the espionage ring were sentenced to lengthy prison terms. Philippe Nathanson was sentenced to life of hard penal labor. He and his peers suffered under severe torture during their investigation and imprisonment.
During their first years in prison, Philippe and his inmates worked hard labor in a quarry. One day, when one of the prison's guards was harassing Philippe, and even hit him with his stick, Philippe, enraged, snitched the stick and jumped over the prison guard. The other prisoners immediately separated the two. Victor rushed to help his friend as well, while the guards were beating him. Following the incident, Philippe was put away in solitary confinement. When he returned from confinement, Philippe was admired by the prisoners, in particular by the younger amongst them, while the guard kept away….
During years in prison, Philippe wrote poems in French, stayed in a physical shape and practiced Yoga, which he learned on his own, reading a book; he somehow got a hold of. He later said, it was important for him to stay strong and fit so he could fight back.
Philippe was a witty, sharp-tongued and a daring man. He constantly contemplated plans to escape. However, they were futile thoughts, which were not implemented, mainly due to the fact their family and friends were still living in Egypt and the group decided to not put them at risk.
Some three years after they were imprisoned, the prison management required Philippe's photography skills. They had to produce a prisoners' photo album. When they did not manage, Philippe helped them to develope the photos. Later he also facilitated photography class for the prison's guards. Philippe was then appointed to be the official prison's photographer, which meant he could walk freely within the prison and arrive everywhere a photographer was required. This way, he also visited other prisons, when, for example, he joined the basketball team that Robert lead.
In prison, Philippe was revealed to be a bird's lover. He lovingly raised a couple of parrots, who reproduced and had so many offspring's it was necessary to move some of them outside the cell, to another cage. To Philippe's disapproval and regret, the birds were also used as bribery gifts, which were handed to the prison's guards. 'Tora' prison became "obsessed" about the parrots.
During his entire time in jail, Philippe's parents did not stop their struggle for the release of their son. They kept visiting him whenever it was possible. In 1964, while walking in the street in Alexandria, Dr. Nathanson suffered a stroke and died. Philippe's mother, Margaret, a noble woman, refused to leave Egypt. She continued to visit Philippe whenever they allowed her. She supported Philippe and his inmates financially, she purchased art materials, parrots and more. Only after Philippe was released from jail, did his mother agree to immigrate to Israel. She lived in Tel Aviv, lead a simple life and continued to be as affectionate and loving as ever. She volunteered at the Tel Aviv University library almost to her last day. Margaret passed away at age 81.
Robert Dassa, Victor Levy, Marcelle Ninio and Philippe Nathanson were released from prison and exchanged in a deal following the 1967 Six-Day War between Israel and Egypt. They arrived in Israel in February 1968.
Philippe married Barbara later that year. A newcomer from South-Africa, Barbara met Philippe when they both attended a Hebrew Ulpan class in Giv'a'tayim. They became the parents of two children, Ariel and Sharon.
Upon his arrival in Israel, Philippe was ranked Major. He then served in the IDF intelligence headquarters and ranked Lieutenant Colonel.
After his arrival in Israel, Philippe worked as a photographer for "Bamahane" IDF magazine. Later he worked in the Mossad , where he continued to contribute to Israel for many years. Even after he retired, Philippe still continued to work voluntarily in a part-time job.
His entire life Philippe was an optimist, known for his sense of humor. He loved life and celebrated it, was a people's person and a wonderful family man.
Philippe Nathanson died in May 2004. The eulogy words of journalist and bureau chief of the office of Prime Minister's Yitzhak Rabin – Eitan Haber – were engraved on his gravestone: "A noble man, a lord, who stems from the pharaonic land".
For further details about Philippe please see:
Remembering Philippe – an interview with wife Barbara, September 2019.
Remembering Philippe – an interview with Philippe's children, September 2019.
Additional links: Arieh Avnery's Website – Philippe's loud silence.
זוכרים את פיליפ - ראיון עם ילדיו (ספטמבר 2019)
זוכרים את פיליפ - ראיון עם רעיתו ברברה (ספטמבר 2019)